Standard Features
Equipped with high-performance 40mm drivers for dynamic sound

---

Exceptional value and high-quality performance

---

Provides a natural, balanced response for a range of instruments

---

Secure and comfortable lightweight design

---

Conversion plug (included) accommodates standard and mini headphone connectors

---

Great for general audio playback too
---
HIGH QUALITY HEADPHONES, IDEAL FOR ANY DIGITAL INSTRUMENT
When your music-making spans from DAW production to playing a range of electronic instruments, keep the RH-5 headphones at hand and you'll always be ready to get creative. Competitively priced, this entry model in Roland's acclaimed RH range is a great choice, equipped with 40mm drivers they deliver a dynamic-yet-balanced tone from digital pianos, guitars, synths, digital drums and more. Even when the session's over, the RH-5 headphones are ideal for streaming music, complete with powerful bass and crystal clear highs.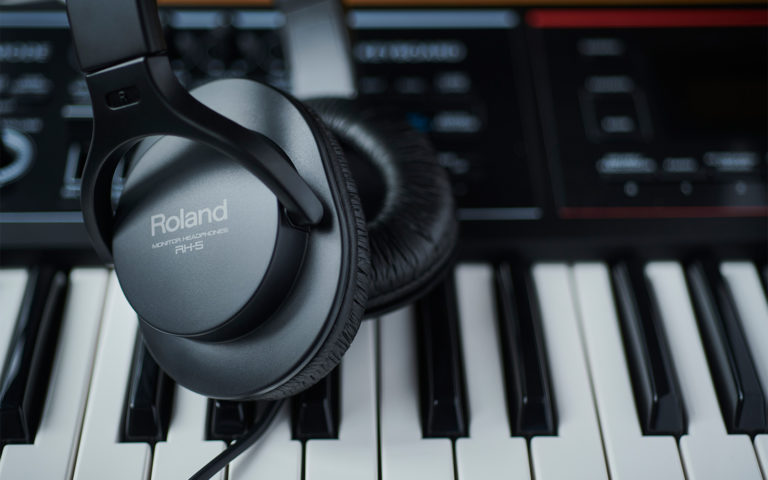 CLOSED BACK DESIGN, FOR COMFORTABLE AND FOCUSSED LISTENING
With RH-5 headphones, you can block out distractions and lose yourself in the music. The closed-back design means you'll never be interrupted by external noise or sound-bleed from other instruments, while the lightweight 190-gram construction prevents fatigue when you're working late on a demanding mix or musical piece. With the addition of a tough 3-metre cord that lets you move easily between different instruments, computers and recording consoles, RH-5 headphones make recording and practice sessions more comfortable, focused and productive.