NEW Features
• FOUR SOUND ENGINES which can be used separately or in any combination. All samples are at a higher resolution than the previous SK series
---
• DRAWBAR ORGAN SECTION DERIVED FROM THE TOP-OF-THE-LINE XK-5
---
• VIRTUAL MULTI-CONTACT KEYBOARD
---
• NEW DIGITAL LESLIE™
---
• EXPANDED TRANSISTOR ("ACE") AND CLASSICAL PIPE ORGAN VOICES (Including 32′ Pedal and Theatre Pipe Organ Voices)
---
• PIANO SECTION With A Wide Variety Of Keyboard Instruments, Including Hi-Res Grand And Electric Piano Sounds.
---
• NEW "S" STYLE GRAND PIANO (Legendary European Instrument)
---
• ENSEMBLE SECTION With Essential Brass, Reed, String, Choir And Percussion Instruments.
---
• ANALOG-MODELED MONO SYNTH SECTION .
---
• PITCH BEND AND MODULATION WHEELS
---
• REAL AC CONNECTION No "Wall Wart"
---
• MULTIPLE, ASSIGNABLE, OUTPUTS, With Discrete Organ And Bass Outputs.
---
• 11-PIN LESLIE JACK
---
• ONBOARD BULK STORAGE for all programming.
---
• A & B USB Ports (for storage and MIDI-Over-USB functions)
---
• SEAMLESS SWITCHING OF TONES WHILE PLAYING.
---
• PATCHES, COMBINATIONS, and centrally located FAVORITE/ALLOCATE buttons allow quick and easy access to performance needs.
---
• LARGE COLOR DISPLAY with essential information gives the player instant status of the instrument.
ORGAN
・The SK PRO incorporates the state-of-the-art "Modelled Tone Wheel 1" (MTW1) sound engine pioneered by the Hammond XK-5 Organ, recognized everywhere as the standard in digital "tone wheel" sound.
・The newly developed Virtual Multi-Contact function replicates the keyboard performance of a vintage Hammond Organ, allowing the player to experience the distinctive Hammond "feel" in every detail.
・A built-in new-generation Digital Leslie brings deeper authenticity, including the airflow of Leslie rotors, faithfully reproducing the Leslie's unique tone and three-dimensional effect.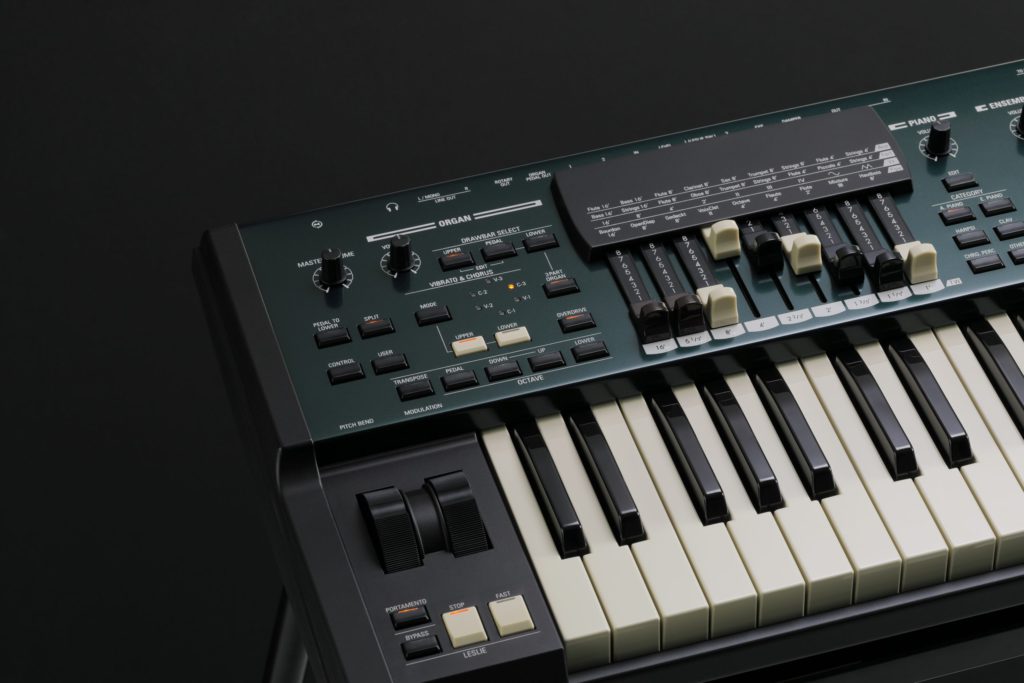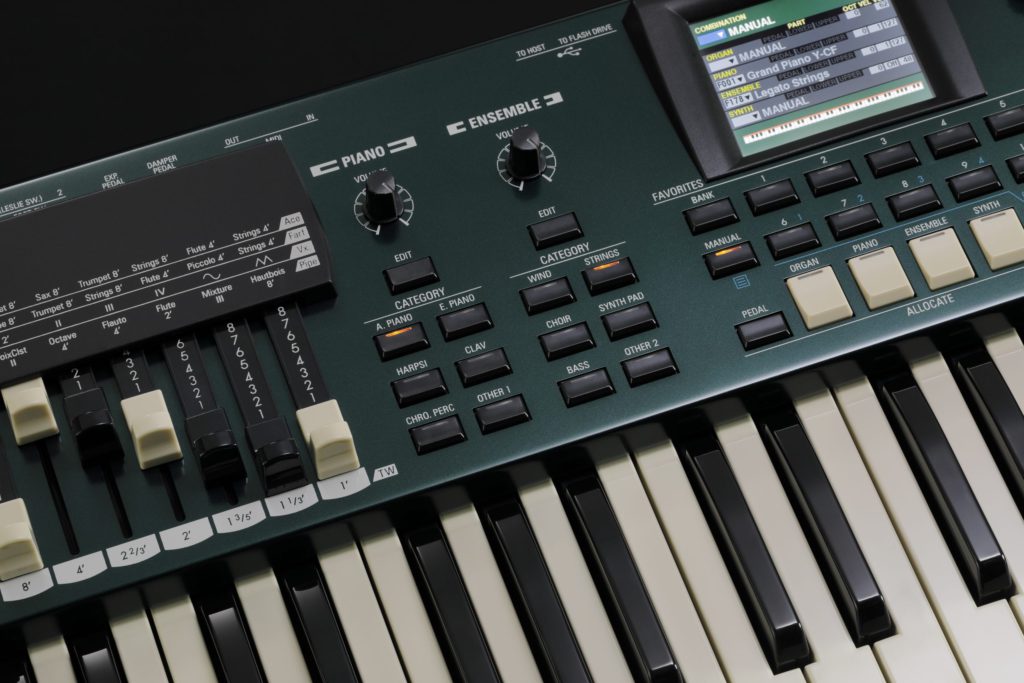 PIANO/ENSEMBLE
• NEW to the SK PRO: All Piano/Ensemble voices can be FULLY EDITED. Sample choice, EG, Filter, LFO and other parameters are now in your control; and can be saved as a Patch.
• The SK PRO contains high-quality samples of the world's leading grand piano sounds, including a brand-new "S" sample of a legendary European Piano
• 162 Hi-Def digital voices (upgraded in resolution from previous SK models) provide a wider variety of tonal possibilities, many of these voices new to the SK series. All Voices chosen for real-world musical performance usefulness.
• 12 Category buttons allow easy and instant tone selection.
• Hammond's exclusive ProChord feature (available on many voices) permits the player to reproduce complex harmonies by playing a single-note melody and playing chords with the left hand.
MONO SYNTH
The SK PRO incorporates a physical-modeling Synthesizer faithfully reproducing the sounds of classic analog synthesizers. Six (6) different Oscillator configurations are provided, as well as controls for Filter and Amplitude allowing the player to create sounds in real-time just as on a classic analog synth.