Sounds and features inherited from the flagship FANTOM series


---

Seamless workflow with no confusing modes


---

Light and durable molded body designs for easy transport


---

Play and produce with thousands of electronic and acoustic sounds powered by Roland's advanced ZEN-Core and SuperNATURAL technologies


---

New SuperNATURAL pianos with authentic acoustic grand sound and response


---

Virtual ToneWheel Organ with harmonic bar control and quick-fire playability


---

Deep onboard sampling features


---

Scenes contain settings for all 16 layers plus effects and patterns


---

Clip-based sequencing with instant pattern recording and triggering


---

TR-REC sequencer inspired by classic Roland drum machines


---

Color touchscreen, high-resolution knobs, sliders, RGB performance pads, and dedicated synth control section


---

Pitch/mod lever and illuminated pitch and mod wheels


---

Massive DSP power for plenty of polyphony and smooth sound transitions


---

4×32 USB audio interface and native integration with Logic Pro, MainStage, and Ableton Live


---

Mic input and powerful onboard vocoder


---

Support for Model Expansions, Sound Packs, Sample Packs, and more from Roland Cloud


---

Comes with 15 Wave Expansions and 10 Sound Packs, available for download from Roland Cloud


---

Compatible with FANTOM Scenes that use ZEN-Core, SuperNATURAL, and Virtual ToneWheel Organ sounds


---
Workflow
Your musical everything.
FANTOM-0 has everything you need to create and perform at the highest level. And with its interactive design and expansive I/O, it blends into every workflow with ease.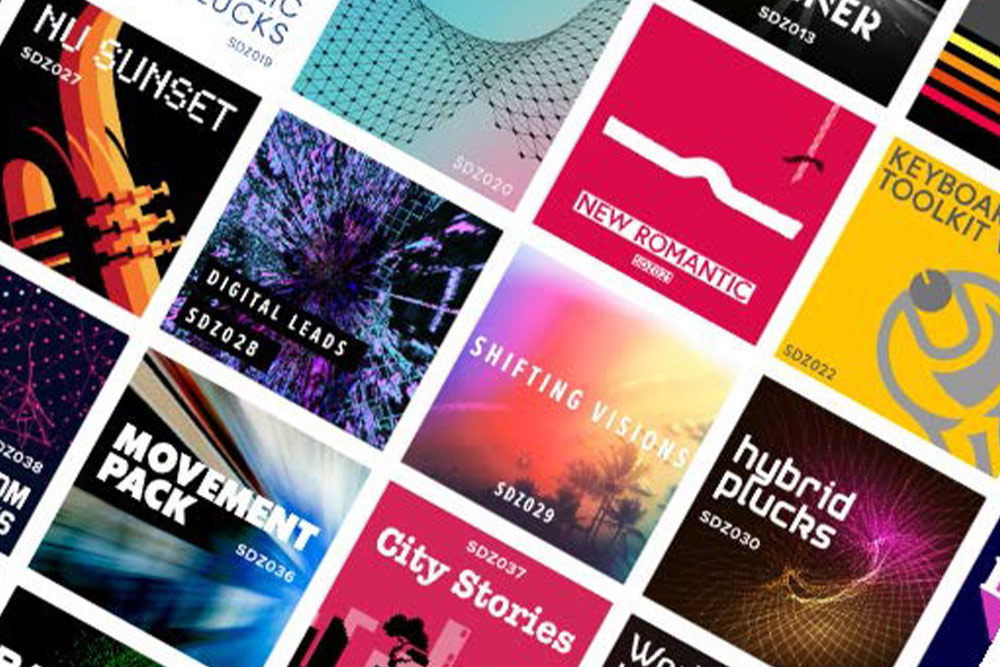 Extraordinary sounds.
FANTOM-0 includes thousands of professional sounds from Roland's immense, trendsetting library, with further expansion available through Roland Cloud. Create with synthesizers and rhythm sounds that have defined entire musical genres. Build organic compositions with pianos and other acoustic instruments. Or shape sounds of the future with FANTOM-0's deep array of modern synthesis tools.
Inspiring playability.
Every FANTOM-0 model feels fantastic under your fingers with responsive custom keyboards and loads of high-res controls. Choose from the 61-note FANTOM-06 or 76-note FANTOM-07 and their synth-action keyboards. Or go for a weighted-action experience with the FANTOM-08 and its 88 ultra-responsive keys.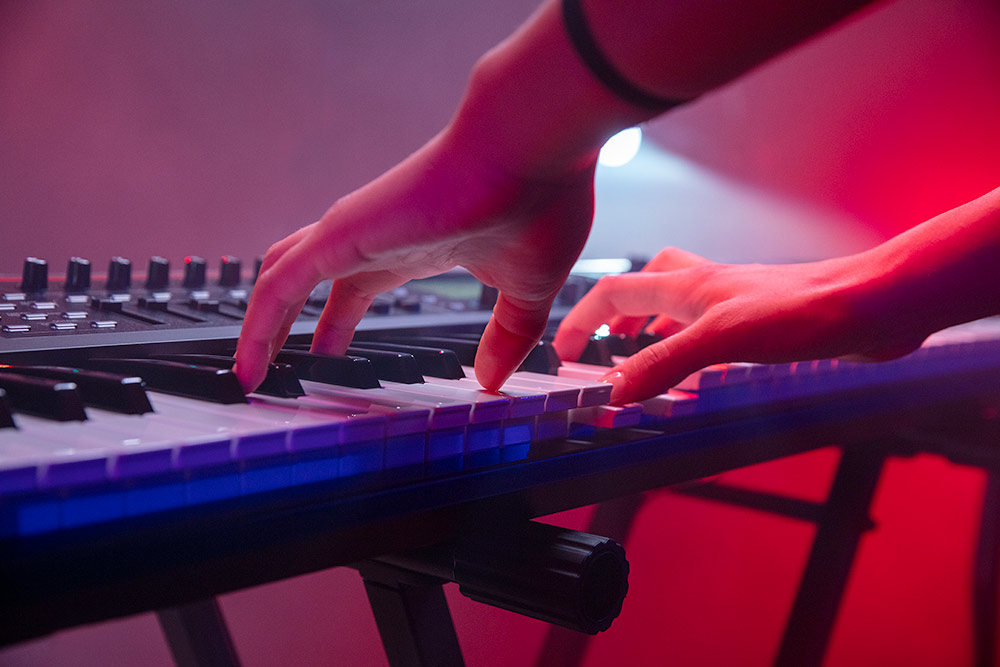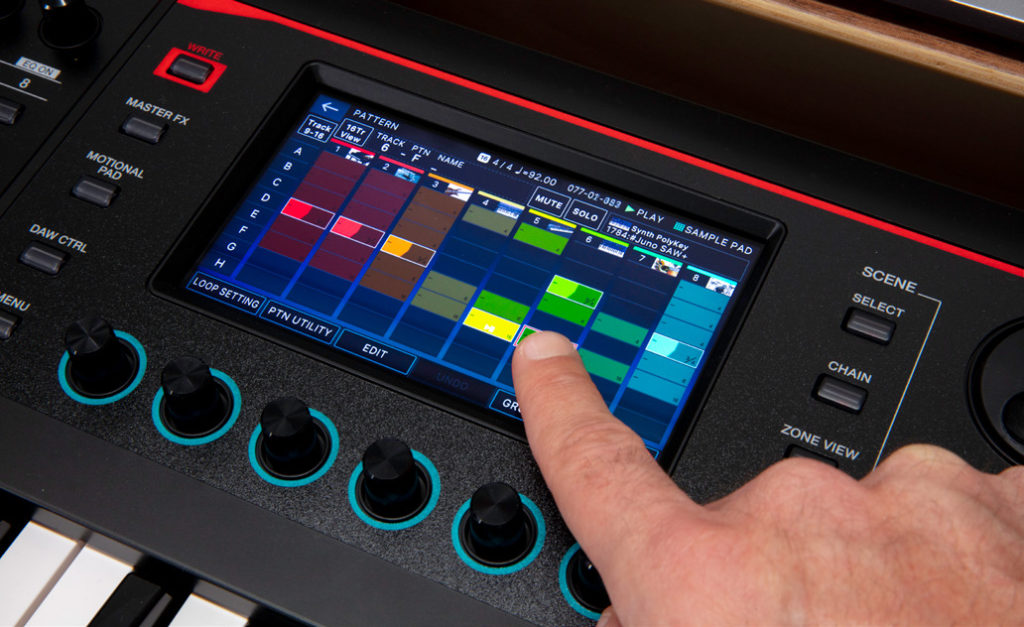 Build songs in a flash.
Designed for non-stop music creation, FANTOM-0 lets you shape sounds and make music without interrupting the flow. With the hands-on knobs and sliders, color touchscreen, quick sampling features, and clip-based sequencer, every session with FANTOM-0 is inspiring, productive, and fun.
Your creative hub.
FANTOM-0 slides seamlessly into modern production setups with a built-in 4×32 USB audio interface, while native integration with Logic Pro, MainStage, and Ableton Live lets you interact with the software using the touchscreen and hardware controls. Going further, you can freely combine soft synths with FANTOM-0's onboard sounds and interface with your favorite MIDI hardware via the dedicated MIDI output.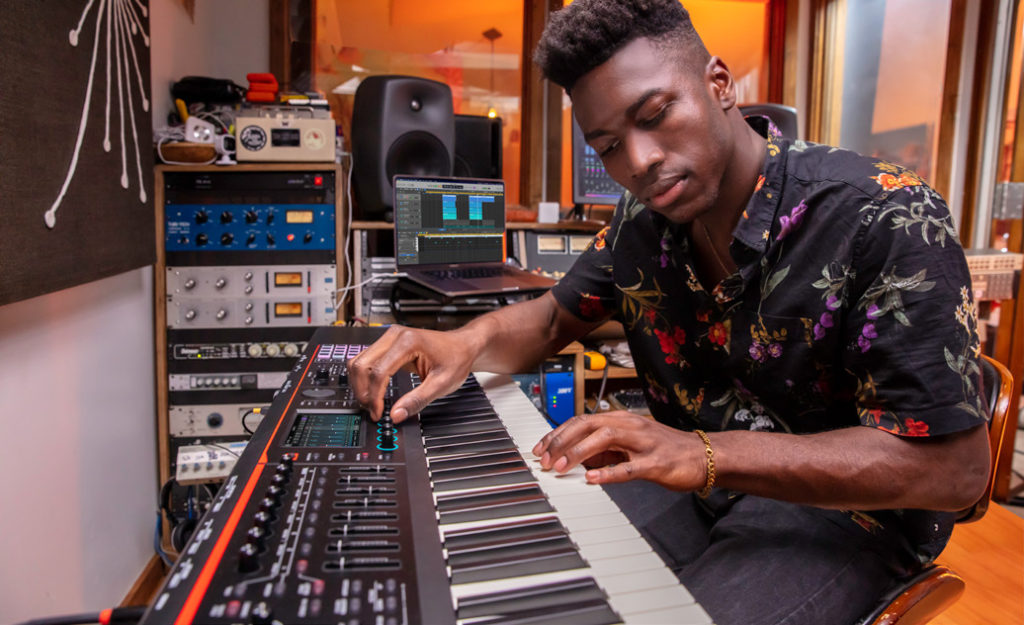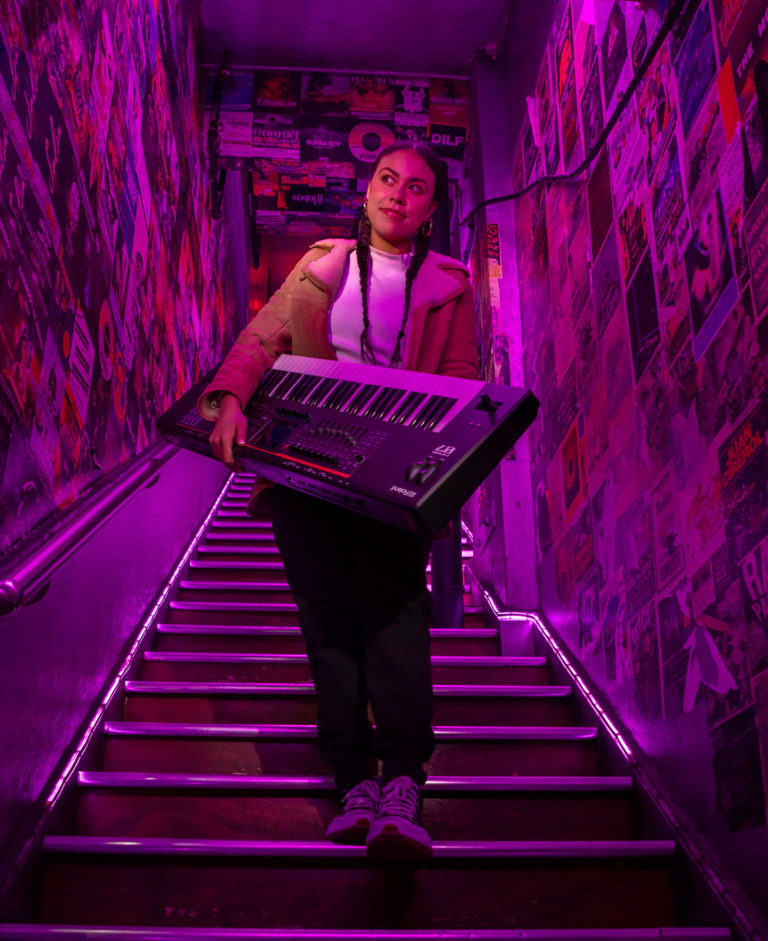 Make music everywhere.
FANTOM-0 instruments are easy to carry from your home studio setup to rehearsal rooms and performance stages. They weigh significantly less than most other professional keyboards, thanks to molded body designs that are sleek, attractive, and ultra-rugged.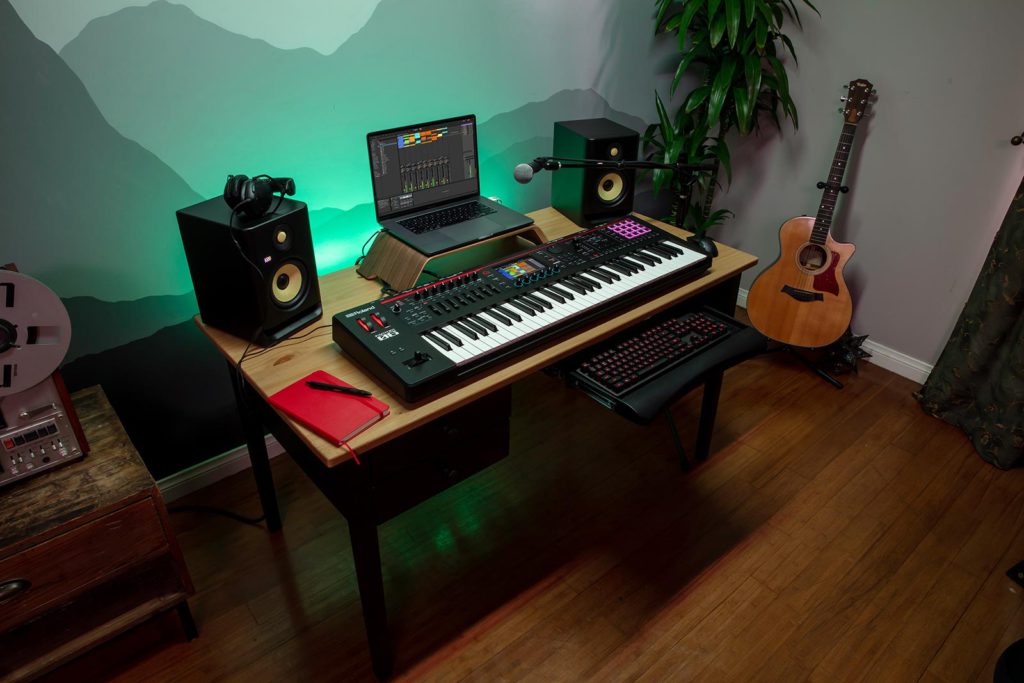 Sounds
Play and produce with Roland's best.
Equipped with Roland's most innovative technologies, FANTOM-0 puts a huge selection of electronic and acoustic sounds at your command. And with a growing range of expansion options from Roland Cloud, you'll never run out of creative fuel.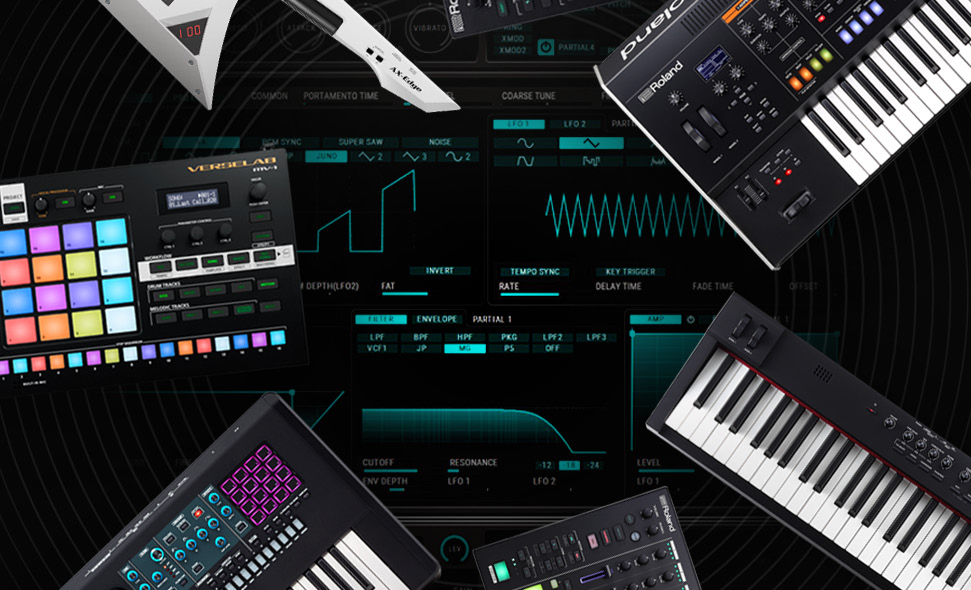 Next-generation synthesis.
Explore the influential sounds of Roland's storied past and craft the sounds of tomorrow with the ZEN-Core Synthesis System, our most advanced synth engine to date.


A grand experience.
FANTOM-0's all-new SuperNATURAL pianos play and respond just like their acoustic counterparts, and you have a range of onboard tools to customize them for your style and touch.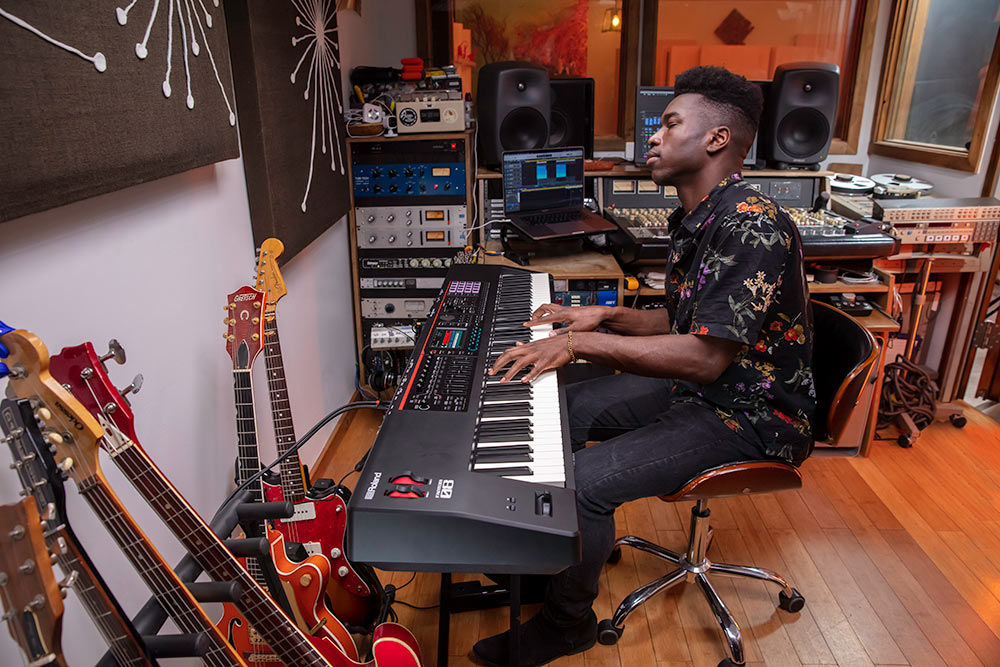 SuperNATURAL power.
With Roland's SuperNATURAL technology, you can play nearly any acoustic instrument imaginable with unparalleled sound quality and authentic articulations and response.
Organic organ.
Evolved from our famous VK organ series, the Virtual ToneWheel engine faithfully emulates the sound-generating process of a real tone wheel organ, backed by quick-fire playability and direct control with the touchscreen, sliders, and knobs.
Deep sampling.
Using FANTOM-0's intuitive sampling tools, you can easily expand and personalize your musical palette by capturing internal sounds, hardware devices, DAW tracks, and more.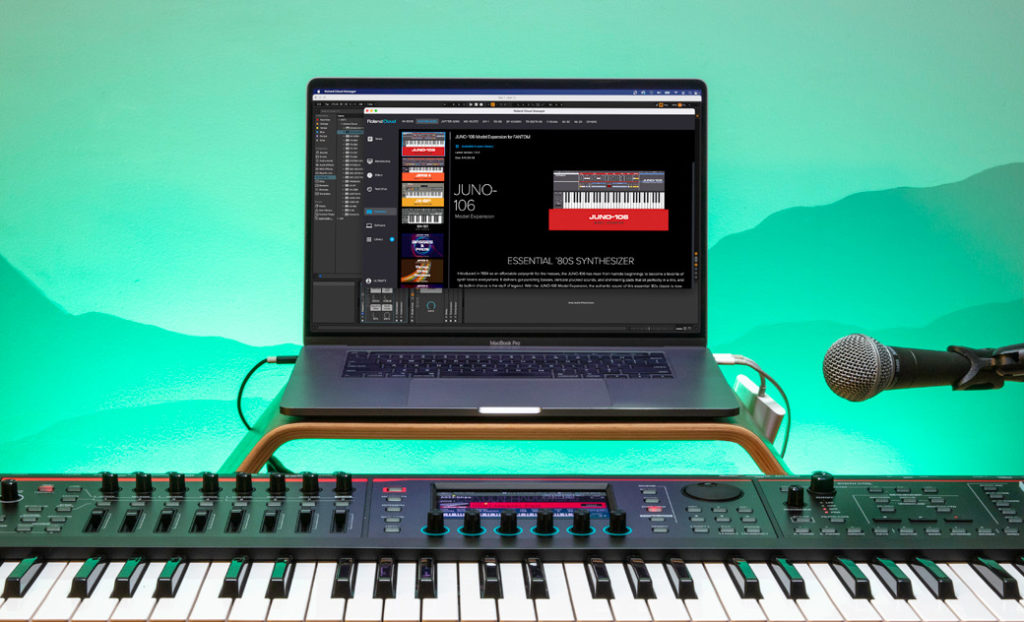 Expand your vision.
With Roland Cloud, you can dive even deeper into the historic and ever-evolving world of Roland synthesizers. Model Expansions let you infuse FANTOM-0 with the authentic sounds and unique characteristics of the JUPITER-8, JUNO-106, and other vintage icons. And with the growing selection of Wave Expansions, Sound Packs, Sample Packs, and more, you'll always keep your music sounding fresh.

To get started, you can download 15 Wave Expansions and 10 Sound Packs at no charge from Roland Cloud when you purchase a FANTOM-0 keyboard.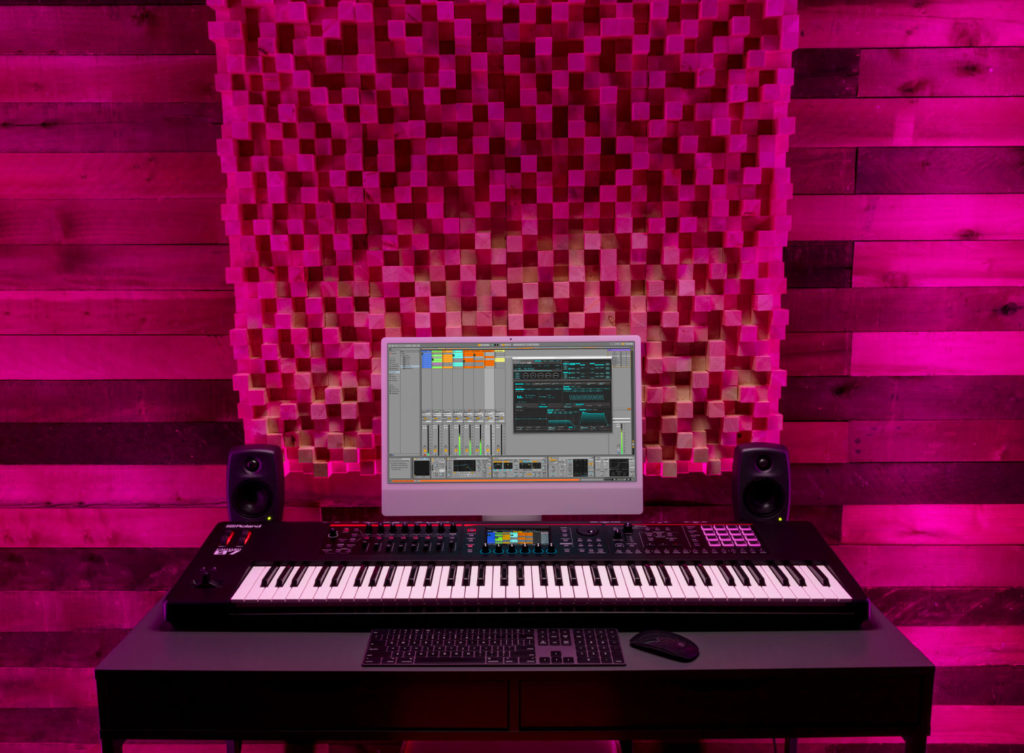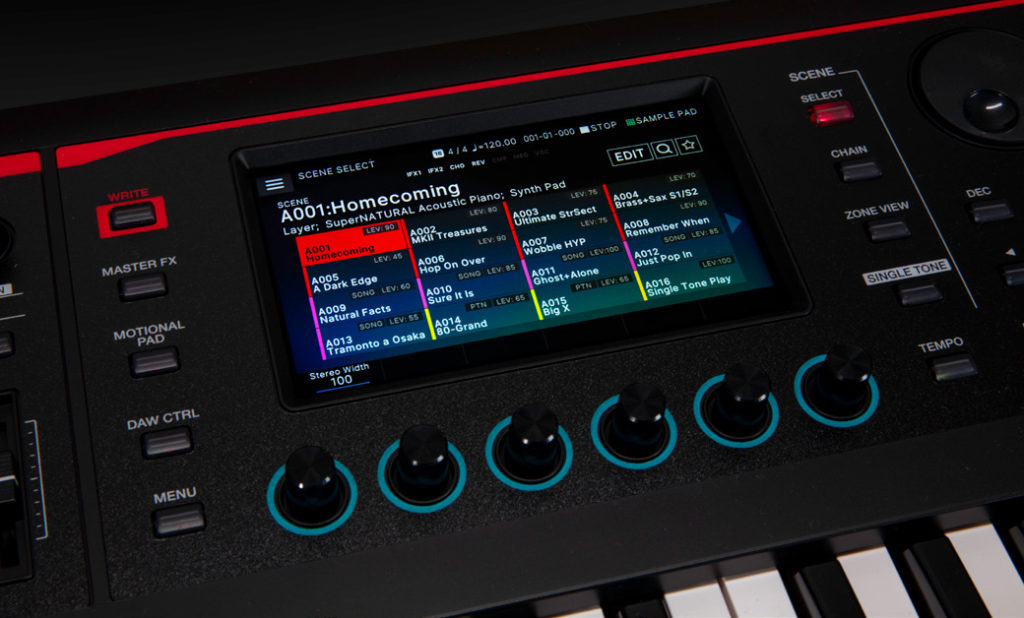 Make a scene.
With custom creative spaces called Scenes, you can store sounds, patterns, performance layouts, templates, and more and recall them with a single touch. A Scene can also be an entire song or section of a song, and they can be chained together and switched seamlessly with no gaps or glitches.
Sound that moves.
FANTOM-0 makes it easy to create long evolving passages, modular-style animated textures, and sounds with deeply intricate movement. You have two LFOs per partial and four partials per tone—and since you can stack 16 tones, that's a staggering 128 LFOs per voice! Step LFOs are also available with 16 steps of beat-synced automation and 35 curve choices per step.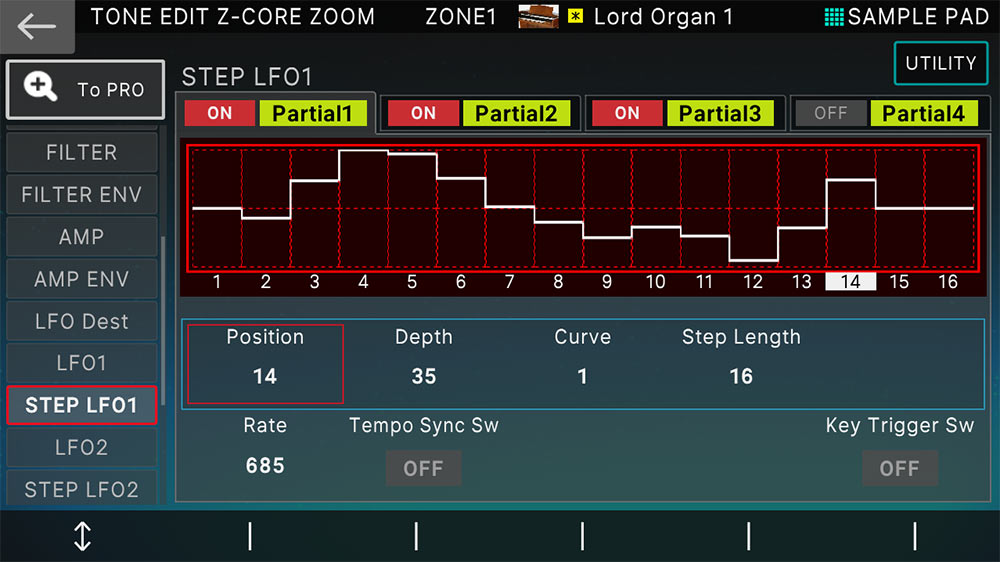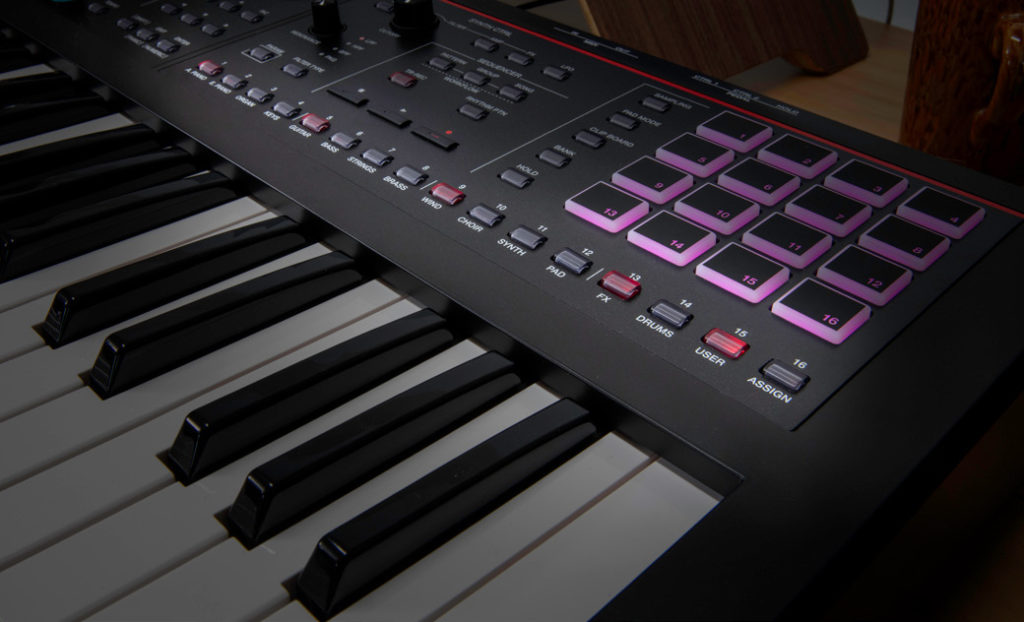 From spark to fire.
Different musical genres need diverse production styles and specialized tools. You can capture music in a variety of ways with FANTOM-0, from real-time and step sequencing to the famous TR-REC pattern sequencer inspired by iconic Roland drum machines like the TR-808 and TR-909.
Get vocal.
Connect a mic to the rear-panel input and sing in the studio or on stage with high-quality processing from FANTOM-0's wide-ranging effects. Or fire up the 32-band stereo vocoder and use the expressive power of your voice to create classic VP-style ensemble tones, robot voices, otherworldly textures, and more.
Instant control.
FANTOM-0 lets you realize musical ideas as quickly as they come. The color touchscreen provides instant interactive control, and the hi-res knobs deliver organic, ultra-detailed response. There's also a dedicated synthesizer section with oscillator, filter, and envelope controls, plus buttons and pads for sequencing, triggering, and more.
Maximum expression.
Some players like levers or wheels, while others prefer external pedals. With FANTOM-0, you can use any of them—or all of them. And there's even a dedicated USB device port to extend your workflow with your favorite USB MIDI controller.