Crystal Clear Audio in a Compact Design
The M-Track Solo is the best, most portable recording interface in its class. It delivers 48 kHz audio resolution in a compact and easy to use format that is ideal for creating music on any Mac, PC or iOS device. This versatile interface works great for recording any type of sound source and features a single Combo Crystal Preamp with phantom power, plus a switchable Line / Instrument input making it compatible with any guitar or microphone. Plus, with M-Track Solo's 2-channel recording you can use both line inputs simultaneously to capture digital pianos, drum machines or any other stereo 1/4″ device. M-track Solo is completely powered by USB, removing the need for an external power supply and making it perfectly portable for recording on-the-go. Throw it into your bag, grab a laptop, and create your next podcast, song, or mix anywhere you want!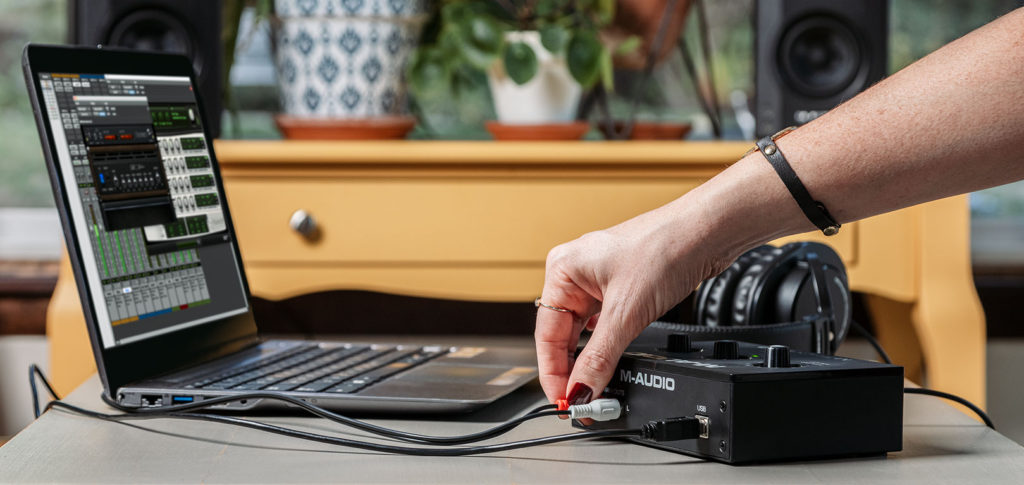 Direct Monitoring & Headphone Connection
M-Track Solo offers zero-latency monitoring of the input signal through both the main RCA outputs and 1/8" headphone outputs. The USB/Direct switch adjusts the balance between the direct inputs and the playback from your computer software. This makes it easy to record new parts or add parts to an existing composition.
20 effect plugins provided by AVID
But that's not all! Included are some extra goodies to help out any podcaster, guitarist, or producer. First on the list are 20 effect plugins provided by AVID, the creators of Pro Tools. This exclusive and diverse collection delivers everything you need for creative production, mixing and mastering, including reverbs, equalizers, delays, filters and so much more.
World-Class Virtual Instrument Xpand!2
Next, is AIR Music Tech's Xpand!2–an amazing sounding synthesizer plugin that you allows you to create synth, string, percussion, organ, and piano sounds with ease. Using everything from wavetables and FM synthesis to sample playback, the expert sound design team at Air Music Tech has carefully created thousands of ready-to-play Xpand!2 presets to get started and to learn how to create your own patches.