Product Specs – Skx Pro
December 29, 2021
Sound Engine:
Organ Section: MTW1 (Modelled Tone Wheel I), Polyphony: 61 (Tone Wheel Organ)Piano/Ensemble Section: Sampling Sound Engine, Polyphony:128
Mono Synth Section: Analog Modeling Synthesizer, Monophonic

Keyboard:
Dual 61, with velocity, semi-weighted, Square-front ("Waterfall"・-style)
61 note C1 to C6

Organ Section:
Parts: 3 (Upper, Lower, Pedal)
Drawbars: 3 sets, [Upper, Lower 9 pitches] Pedal, 2 pitches
Voicing:Upper & Lower: 8(A-100, B-3, C-3, Mellow, Vx, Farf, Ace, Pipe), Pedal: 3 (Normal, Muted, Pipe)
Percussion: Buttons: On, Volume Soft, Decay Fast, Third Harmonic

Piano/Ensemble Section:
Component: 4, LFO: 2

Mono Synth Section:
Oscillator: 6 types (Duo, Unison, Pulse, Sync, FM, Noise)
Filter: 4 types (LP12, LP24, HP12, HP24), Resonance, Drive
Modulator: LFO: 1, EG: 2 (Pitch&Filter, Amplitude)

Effects:
•  Organ Section: Vibrato & Chorus , Multi Effect 1, Overdrive, Multi Effect 2,             Matching Transformer , Leslie, Equalizer & Tone Control
•  Piano/Ensemble Section: For each section: Multi Effect 1, Overdrive, Multi Effect 2, Equalizer
•  Mono Synth Section: Multi Effect 1, Overdrive, Multi Effect 2, Equalizer
•  Master: Equalizer, Reverb

Key Map:
•  Internal Zone: Transpose, Octave, Split, Pedal To Lower, Lower to Pedal, Allocate, Pedal Sustain
•  External Zones: 3 Zones (assignable to each keyboard)

Controllers:
•  Pitch Bend wheel, Modulation wheel, Portamento, Leslie (Bypass, Stop, Fast)
Memory:

•  Favorites: 10 banks x 10 numbers (Combination), 10 numbers (Page)
•  Combination: Factory: 100, User: 100, Bundle: 100, Manual
•  Organ Patch: Factory: 100, User: 100, Bundle: 100
•  Piano / Ensemble Patch: Factory: 300, User: 400
•  Mono Synth Patch: Factory: 100, User: 100, Bundle: 100
•  Custom Tone Wheel: Factory: 4 x 3, User: 4 x 3
•  Custom Pedal Registration: Factory: 3, User: 3
•  Custom Pipe: Factory: 3, User: 3
•  Custom Cabinet: Factory: 8, User: 8

Storage:
•  Internal Memory, USB Flash Drive

Display:
•  320 x 240 pixel, Tilted for improved viewing

Connections:
•  Audio: Line Out L, R, Headphones, Individual 1, 2, Rotary Out, Organ Pedal Out, Aux In (with Volume control)
•  Leslie: 11- pin, 1 and 3 channels available
•  Others: Foot Switch 1/Leslie Switch, Foot Switch 2, Damper Pedal, Expression Pedal

Rated Power Consumption:
• SkxPRO: 1002mm (W), 479mm (D), 183mm (H) [39.5″ (W), 19″ (D), 7.2″ (H)]

Weight:
•  SkxPRO: 16.9kg [37.25 lbs]
Accessory:
•  AC cord
Learn about the SkxPRO
Essential Features:
AUTHENTIC HAMMOND ORGAN derived from our TOP-OF-THE-LINE XK-5.
3 INDEPENDENT SETS OF DRAWBARS: UPPER/LOWER/PEDAL
EXPANDED TRANSISTOR and PIPE ORGAN voices (including Classical and Theatre Organ ranks)
PIANO SECTION with a wide variety of keyboard instruments,
including new high-resolution Grand and Electric Piano sounds,
ENSEMBLE SECTION with essential Brass, Reed, String, Choir and Percussion instruments.
ANALOG-MODELLED MONO SYNTH SECTION.
PITCH BEND and MODULATION WHEELS.
SEAMLESS SWITCHING of tones while playing.
PATCHES, COMBINATIONS and CENTRALLY LOCATED FAVORITE/ALLOCATE
buttons for quick and easy access to performance needs.
DIRECT POWER CONNECTION (no "wall-wart" Power-adapter).
MULTIPLE, ASSIGNABLE, OUTPUTS, with discrete Organ and Bass outputs.
1/8″ STEREO INPUT JACK for External Audio Sources
11-PIN LESLIE JACK.
ON-BOARD BULK STORAGE for all programming.
USB TYPE "A" and "B" PORTS for USB MIDI and MASS STORAGE functions.
LARGE COLOR DISPLAY giving essential instrument information instantly.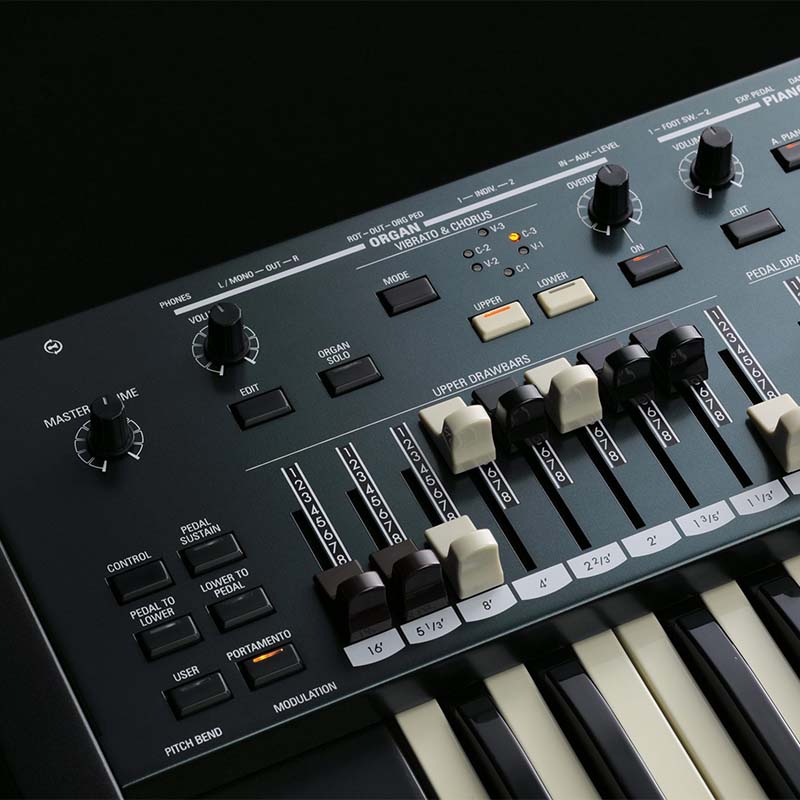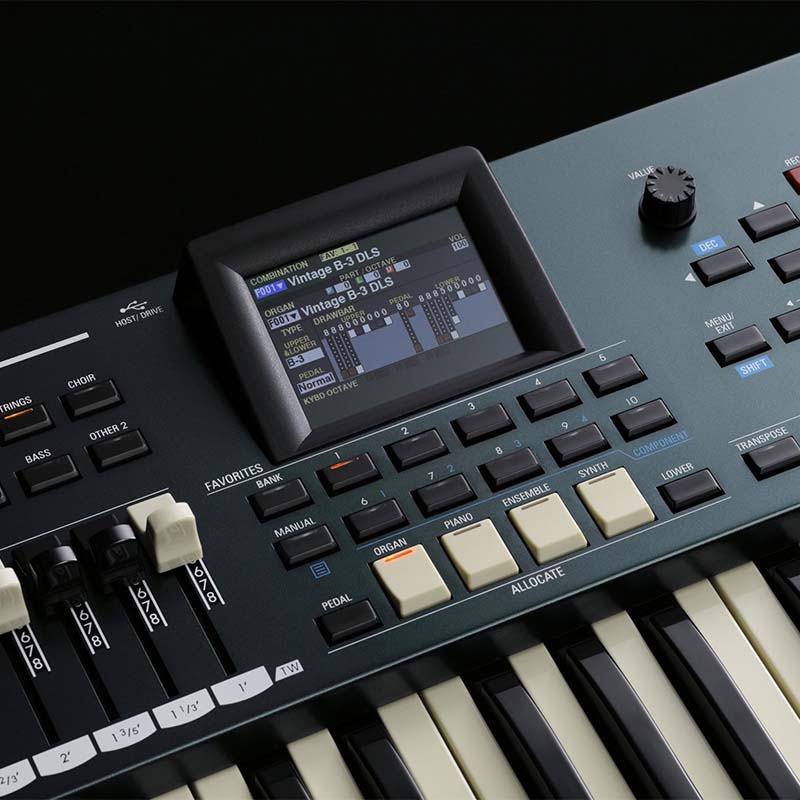 PIANO/ENSEMBLE
● All Piano/Ensemble voices are at a HIGHER RESOLUTION than the classic Sk Series.
● All Piano/Ensemble voices can be FULLY EDITED. Sample choice, EG, Filter, LFO and other parameters are now in your control and can be saved as a Patch.
● The SkxPRO contains high-quality samples of the world's leading Grand Piano sounds, including a brand-new sample of a legendary European Concert Grand Piano.
● High-definition digital voices (upgraded in resolution from previous Sk models) provide a wide variety of tonal possibilities, many of them new to the Sk-series.
● 12 Category Buttons allow easy and instant tone/patch selection.
● Hammond's exclusive Pro Chord feature permits the player to reproduce complex harmonies by playing a single-note melody based on chords played on lower manual. (Pro Chord feature also available on Drawbar Voices)
MONO SYNTH
The SkxPRO incorporates a physically-modeled Synthesizer faithfully providing the sounds and playing experience of classic analog synthesizers. All traditional synth controls are on the top panel, allowing the creation and editing of sounds in real-time just as on a classic analog synth.